---
THE UNIVERSITY
---
SFSU: AN ENGAGED UNIVERSITY
What makes San Francisco State University special? Its location in one of the world's most diverse, creative, and globally-connected regions is certainly a singular advantage, but it is our own strengths that have earned this regional university national--and international--name recognition.
In the words of our accrediting agency, SFSU is "an energetic, dynamic university involved in revitalizing its urban mission. It is an engaged university that genuinely cares about its community. It is an ethnically and racially diverse university where composition of its students, faculty and staff mirrors that of its surrounding geographical areas."
This statement captures several of our proudest characteristics. San Francisco State has been a strong community partner for more than 100 years. Recently, it has achieved national recognition for its success in building community service into the academic program, making it a regular part of many courses. The academic and personal outcomes for students are powerful. They do better in those classes, gain a range of new skills, and emerge with heightened confidence. They also learn, first-hand, that one person can make a difference.
Faculty focus much of their own scholarship and applied research on community issues--and to San Francisco State faculty, "community" can be near or far. An education professor has joined with a local educator as co-principal of a low-achieving San Francisco elementary school, putting new ideas and strategies to work in this real-life setting. On the other side of the world, a computer science professor is using the power of the Internet to link health providers in Kenya with AIDS information and training resources.
We are especially proud to be known as a national leader in an arena that encompasses all academic fields: welcoming and drawing strength from diversity--in faculty hiring, in our student population, and in our curriculum. We are seeking to provide an environment and an education that prepare students to be leaders in a global and diverse society.
SFSU sends more students into study abroad programs than any other campus in the California State University. It is a major draw for international students, with the third highest international student enrollment in the nation among master's institutions.
Our student population continues to be one of the most diverse in the nation, and our graduates consistently describe this diversity as one of the most valuable aspects of their education. Students of color succeed at San Francisco State. We recently ranked 13th in the nation as a producer of ethnic minority university graduates, second nationally in awarding master's degrees in English to minority students, number one nationally in undergraduate business degrees awarded to Asians, and among the top 10 in a guide to "Top Colleges and Universities for Hispanics."
"When you walk across SFSU's campus, you walk across the world," one faculty member says, adding that teaching here is "a great opportunity to learn about other cultures and values. We teach the students and they teach us."
In everything we do here, we work to make San Francisco State University a place that encourages, elicits the best from, and nurtures all. We strive every day to make it a microcosm of what we would like the world to be.
In short, San Francisco State is a cosmopolitan and challenging urban campus that can take a student as far as he or she is willing to go.
Robert A. Corrigan, President
San Francisco State University
THE MAKING OF A UNIVERSITY
"Over 100 years ago, when San Francisco desperately needed a source of well-trained, truly professional teachers for its children, San Francisco State led the way. The teacher training curriculum developed by founding President Frederic Burk set the standard for the day.

"Today, our community has more numerous and more complex needs. And San Francisco State University is still a leader, growing and changing with the City and the Bay Area, responding to and anticipating the issues that shape our daily lives and will influence our future."
President Robert A. Corrigan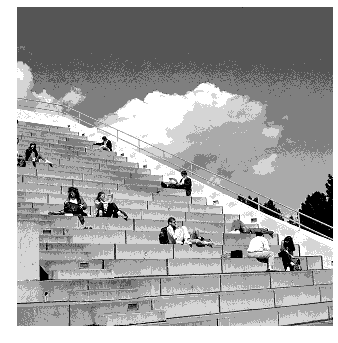 Since San Francisco State Normal School opened in 1899 as a teacher training center, it has changed its name four times--to San Francisco State Teachers College, San Francisco State College, California State University, San Francisco and, in 1974, San Francisco State University--each change reflecting its expanding academic scope. The first class of 36 women was graduated in 1901. SFSU now graduates some 6,500 men and women a year.
After the earthquake of 1906 destroyed the original campus on San Francisco's Nob Hill, San Francisco State moved to Upper Market Street in the City. Climbing enrollment led to another move and in 1954, SF State officially dedicated the first buildings on its present 94-acre site near the shores of Lake Merced in the southwest corner of San Francisco.
In 1961, an ambitious and socially progressive new master plan reshaped California higher education, and San Francisco State became one of the founding campuses of The California State University and Colleges, now known as the California State University. The CSU is the largest system of higher education in the nation, currently serving almost 326,000 students in bachelor's through joint doctoral programs.
A WALK THROUGH OUR URBAN PARK
San Francisco State's compact main campus achieves a park-like beauty amid the city life that surrounds it. From the central green, it is no more than a five-minute walk to most of the buildings that house SFSU's wide-ranging academic programs. These currently include 116 bachelor's and 95 master's degrees; two joint doctorates in education (with the University of California, Berkeley); and a joint doctorate in physical therapy science and a joint master's degree in physical therapy (both with the University of California, San Francisco). Degrees are offered through eight colleges: Behavioral and Social Sciences, Business, Creative Arts, Education, Ethnic Studies, Health and Human Services, Humanities, and Science and Engineering.
With its two dramatic leaning pyramids, the Cesar Chavez Student Center is a central campus landmark. The center houses restaurants, a pub/coffee house, the bookstore, the Oakes Multicultural Center, games room, student government and other student organization offices, indoor and outdoor lounge areas, and meeting rooms.
Nearby, the five-story Fine Arts Building provides an art gallery; sound stage; theatre (bringing the campus total to four); facilities for computer-aided design and animation programs; video, film, and sound editing laboratories; offices and classrooms. Together with the adjacent Creative Arts Building, it gives SFSU's strong arts programs the up-to-date facilities they need.
The Humanities Building is both the newest and largest classroom building on campus. It offers specialized facilities for each of the humanities disciplines, including museum exhibit and conservation space, seminar rooms, and homes for the university's nationally-known Poetry Center and Video Archives.
The center of the teacher education program, Burk Hall, has recently been updated with new computer facilities and professionally-equipped spaces for nursing, counseling and special education. Burk Hall also boasts a small, elegant restaurant run by students in the hotel/restaurant management program.
Across from Burk Hall, a newly-retrofitted five-story center houses academic programs including ethnic studies and psychology. Next door is a complex that serves both athletics and the academic needs of the kinesiology, recreation, and physical therapy programs. Among the facilities available for campus recreation are three gymnasiums, a swimming pool, weight room, and a 6,500 seat stadium, as well as nearby tennis courts.
Facing the campus green are the buildings housing business, the sciences, and additional social sciences. Among the specialized facilities are up-to-date laboratories for research and teaching in such areas as genetic engineering, biochemistry, and molecular biology; advanced computing facilities; a planetarium and observatory; electron microscope laboratory, and the design and fabrication laboratories of Whirlwind Wheelchairs.
The J. Paul Leonard Library holds more than 4 million items and logs more than two million visits each year from students, faculty, and community members. The Library's many electronic resources include InvestiGator, the Library's own on-line catalog, which is available both on-site and remotely. The Library provides access to well over 100 on-line databases, most also accessible remotely. The largest of the campus' 24-hour computing laboratories is located on the Library's first floor.
It is no more than a five-minute walk from the Library to the newest addition to the campus--the student housing complex known as The Village at Centennial Square. The Village provides apartment-style housing for 760 upper division and graduate students. With its low-rise profile, linked courtyards, canopied walking areas, commercial and restaurant space, and numerous community activity and study areas, the Village is a relaxing world of its own within the campus. Two other student residence halls, Mary Park Hall and Mary Ward Hall, and the student dining center are situated near the Village.
All SFSU students benefit from one of the Village facilities: the Student Services Building, a center that brings all student services together in one place, giving students convenient, one-stop access to Student Affairs programs and to services ranging from cashiering to advising to counseling.
To expand the university community and provide much-needed housing for faculty and staff, as well as students, the SFSU Foundation has in the last two years acquired 180 housing units bordering SFSU, expanding the main campus by seven acres and several city blocks.
The university operates several off-campus study centers. They include the Romberg Tiburon Center, 35 scenic acres on the shores of San Francisco Bay where faculty and students conduct environmental research that ranges from local to global in impact; the Sierra Nevada Field Campus in the foothills of the Sierra Nevada mountains; and the SFSU Downtown Center in the heart of the City and the Oakland Multimedia Center, operated by the College of Extended Learning (CEL). Extended Learning is a self-supporting arm of the university that provides programs and courses not funded through the state budget. The nation's largest Multimedia Studies program, continuing education courses, Open University, travel study, contract courses, professional training, and a range of certificate programs are among CEL's offerings.
THE COMMUNITY IS OUR CLASSROOM
A teen health center, established by a San Francisco State faculty member at a local high school, expands to meet the needs of families and moves out into the neighborhood. There, SFSU students in nursing, counseling, social work, and health education put their learning to work as they help their community. Computer science students connect a low-income housing complex to the Internet, setting up computers in every unit and teaching residents of all ages basic computer skills. Marketing and broadcasting students join to produce public service television spots for local non-profits.
In these and scores of other programs, San Francisco State lives out its mission as an engaged urban university: one that focuses much of its faculty expertise and student talent on community-related applied research and service. San Francisco State works with the community to address such crucial issues as health needs of immigrant families, youth gangs, the special stresses of new inner-city school teachers, environmental restoration, and more. Many classes--more than 100 so far, in over 40 departments--build community involvement into the course. Students overwhelmingly report that this "service learning" approach strengthens their learning, as well as their real-world, problem-solving skills.
The university aims to graduate women and men who are prepared and ready to become involved in their communities, who expect civic engagement to be a part of their lives. San Francisco State's community focus supports this value and makes for a vibrant learning experience. Students have exceptional opportunities to gain experience that is both personally and professionally enriching and to develop skills that will last a lifetime.
FACULTY: THE MINDS THAT LEAD US
The heart of learning is the human interchange between student and teacher, the mind-to-mind encounter for which there is no substitute. At San Francisco State, there are many such encounters. From the first freshman-level class to the graduate classroom, students have close contact with their teachers, from the newest assistant to the most senior professor.
Faculty come to SFSU from the finest universities in the nation and the world. Here, they are winning awards (Fulbrights, the Pulitzer Prize, Guggenheims) and doing cutting-edge scholarship, which often includes students as partners in research. They currently bring in almost $45 million each year in grants--a "research university" level. Still, their number one goal remains excellence in teaching.
The women and men who teach at San Francisco State say that they are drawn by the diversity they find in their students (a diversity they increasingly share), the stimulation of the Bay Area's international and richly multicultural environment, and the engagement with the community that is a fundamental part of the university's character.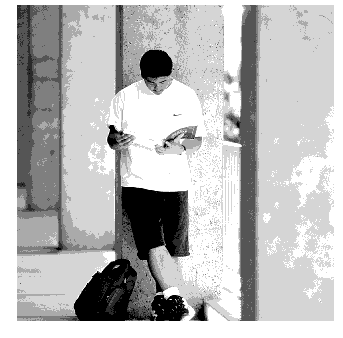 STUDENTS: A WORLD OF EXCELLENCE
At San Francisco State, students find a campus and a faculty that encourage them to surmount barriers and go as far as their minds will take them. Though the majority are from the Bay Area, the university's almost 27,000 students come from across the nation and almost 110 countries around the world. Like California--and the nation--they are increasingly ethnically diverse. There is no "majority" group, and about 70% of undergraduates are people of color.
The university's urban setting, the varied life experience of its students, and the faculty's active involvement in applied and community-focused scholarship combine to give students abundant opportunities to work independently, to custom-tailor their academic program, and to move beyond the classroom and into the community. SFSU students can develop values and skills that will give them an edge when they move into the work force--and will make them lifelong good citizens.
Despite full lives and sometimes-conflicting demands, SFSU students excel. The speech and debate team wins two national championships and defeats the likes of Harvard and Dartmouth in debates. A cinema student's film premieres at the Sundance Film Festival, and another student's work is nominated for an Academy Award. A journalism student, who moonlights as a medic, wins one of just four reporting fellowships awarded nationally by The New York Times. Several specially-designed, grant-supported programs provide talented students in sciences with a pipeline to top doctoral programs.
In these and many other ways, San Francisco State's students are fulfilling the promise of the university's mission to them--and to the community.
MISSION OF THE UNIVERSITY
The mission of San Francisco State University is to create and maintain an environment for learning that promotes respect for and appreciation of scholarship, freedom, human diversity, and the cultural mosaic of the City of San Francisco and the Bay Area; to promote excellence in instruction and intellectual accomplishment; and to provide broadly accessible higher education for residents of the region and state, as well as the nation and world. To fulfill its mission, the university is committed to the following goals:
Attracting, retaining, and graduating a highly diverse student body;
Providing disciplinary and interdisciplinary liberal arts and professional education that is academically rigorous and intellectually challenging;
Providing curricula that reflect all dimensions of human diversity, and that encourage critical thinking and social and cultural awareness;
Recruiting, retaining, and supporting a diverse faculty whose teaching demonstrates an active engagement with their individual fields of study and whose creative and scholarly work is an extension of the classroom, laboratory, or studio;
Employing a staff and administration reflecting the diversity of the community and the values of the campus;
Fostering a collegial and cooperative intellectual environment that includes recognition and appreciation of differing viewpoints and promotes academic freedom within the university community; and
Serving the communities with which its students and faculty are engaged.
---
ACCREDITATION
---
The university is accredited by the Accrediting Commission for Senior Colleges and Universities, Association of Senior Colleges and Universities of the Western Association of Schools and Colleges (WASC). WASC is located at 985 Atlantic Avenue, Suite 100, Alameda, CA 94501. Various specialized programs at the university are accredited by the following agencies.
| Program | Agency |
| --- | --- |
| Art BA/MA/MFA | National Association of Schools of Art and Design |
| Business Administration BS/MS/MBA | Association to Advance Collegiate Schools of Business |
| Chemistry BS | American Chemical Society |
| Civil Engineering BS | Accreditation Board for Engineering and Technology |
| Clinical Laboratory Science Internship Program | National Accrediting Agency for Clinical Laboratory Sciences |
| Communicative Disorders MS | American Speech-Language-Hearing Association |
| Computer Science BS | Accreditation Board for Engineering and Technology |
| Counseling MS | Council for Accreditation of Counseling and Related Educational Programs |
| Dietetics BS and Internship Program | American Dietetics Association |
| Drama BA/MA | National Association of Schools of Theatre |
| Education MA | National Council for Accreditation of Teacher Education |
| Electrical Engineering BS | Accreditation Board for Engineering and Technology |
| Family and Consumer Sciences BA/MA | American Association of Family and Consumer Sciences |
| Hospitality Management BS | Association to Advance Collegiate Schools of Business |
| Journalism BA | Accreditation Council on Education in Journalism and Mass Communications |
| Mechanical Engineering BS | Accreditation Board for Engineering and Technology |
| Music BA/MA/BM/MM | National Association of Schools of Music |
| Nursing BS/MS | National League for Nursing Accreditation Commission |
| Physical Therapy MS | American Physical Therapy Association |
| Public Administration | National Association of Schools of Public Affairs and Administration |
| Recreation BA/MS | National Recreation and Park Association |
| Rehabilitation Counseling MS | Council on Rehabilitation Education |
| Social Work BA/MSW | Council on Social Work Education |
| Special Education MA and Concentration in EdD/PhD in Education | National Council for Accreditation of Teacher Education |
| Theatre Arts MFA: Concentration in Design and Technical Production | National Association of Schools of Theatre |
---